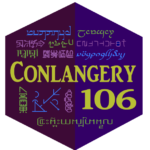 Suzette Haden Elgin passed away on January 27th. She will be missed.
You can now support Conlangery on Patreon!
William can now talk about conlanging he did for a videogame!
In this episode, George and William go over the wonderful diversity of auxiliary verb constructions! So much to think about!
Links and Resources:
Podcast: Play in new window | Download | Embed